Advocacy at the Capitol: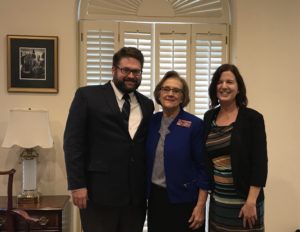 GACA Board members joined key stakeholders like Rep. Sharon Cooper, Neil Campbell, Cassandra Price, Georgia Overdose Prevention, and the 2018 Addiction Recovery Coalition of Georgia to advocate for the recovery community at Addiction Recovery Awareness Day on Thursday, January 11 at the Georgia State Capitol. This advocacy event is organized by the 
Georgia Council on Substance Abuse
 every January at the beginning of the Georgia legislative session.
At the event, Rep. Sharon Cooper gave a heart-felt address to the recovery community. Representative Cooper and
Georgia Overdose Prevention
were instrumental in getting Georgia's 911 Amnesty Law passed that saves the lives of those suffering with opioid use disorder.
Addressing Opioid Use in Georgia:
On November 7, 2017, GACA participated in a community based meeting with local, state, and federal officials at The DOOR, a recovery community organization in Decatur, Georgia. Richard Baum, Acting Director of the White House Office of National Drug Control Policy, The Drug Czar was present.
Local Commissioner District 3, Larry Johnson also attended along with the Georgia Department of Behavior Health and Developmental Disabilities (DBHDD), Georgia Council on Substance Abuse, and Georgia Overdose Prevention. The group shared ideas, experiences, needs, and hopes around the struggles we collectively face in the ongoing opioid crisis. Mr. Baum spoke about President Trump's position on the opioid epidemic and asked for input from the community members and those working in the areas of prevention, treatment, and recovery.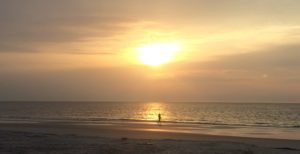 Strategies & Solutions for the Opioid Epidemic
2018 Spring Training Conference & Retreat
April 26-29, 2018
Epworth by the Sea GACA Reservation Form
Sponsorship and Exhibitor Opportunities Spring 2018 Conference St Simons
Epworth by the Sea, St Simons Island, Georgia
Winter Workshops
Advanced Group Therapy Skills for Addiction Counselors
Presenter: Jim Seckman, MAC, CACII, CCS
Groups are where our clients find the hope and help necessary for their best chance at recovery. Clients and their issues are highly complex in today's treatment settings, necessitating the need for the counselor to increase their skill level and have a broad base of knowledge and techniques from which to draw.
Metro Atlanta Region Workshop
Friday, January 26, 2018, 9am-5pm
Ridgeview, Smyrna, GA
Register - Metro Atlanta Workshop
Coastal Region Workshop
Friday, February 16, 2018, 9am-5pm
Willingway, Statesboro, GA
 Ethics Update
At our Fall Conference, the GACA Board of Directors met and officially adopted the NAADAC Code of Ethics as the GACA Code of Ethics. Jim Seckman, MAC, CACII, CCS presented an overview and training on the changes to the NAADAC code of ethics to provide us with a deeper understanding of the standards we are held to as counselors.
Membership Benefits
GACA Membership gives you access to free consultations on ethical dilemmas. It also gives you significant discounts on conference registration rates, certification and re-certification application fees, eligibility to vote in elections, and eligibility to serve as a GACA board or committee member. It also gives you access to free NAADAC webinars, professional newsletters, and legislative advocacy.  Become a member of GACA/NAADAC  today or renew your membership and take advantage of the great benefits GACA/NAADAC have to offer. Select the following membership rate that applies to you:
Click below to pay for membership or mail a check payable to GACA, 4015 South Cobb Drive, Suite 160, Smyrna, GA 30080. Be sure to add the Member's Name.
Select Membership Type
Type Member's Name
Professional: $145 - Open to individuals who are engaged as addiction professionals and includes the full membership benefits.
Associate: $124 - Open to individuals who are working towards qualification, licensure, or certification in the addictions profession and have less than five years of experience. This category may include counselors-in-training category and non-clinical addiction professionals, such as probation officers, marketing representatives, public health workers, peer recovery support specialists, as well as other people interested in the addiction field. Associate members must not be currently licensed or certified as an addiction professional.
Student: $62.50 - Open to those individuals currently enrolled in a college/university or state government approved training facility with a minimum of three credit hours in addiction studies, and students involved in a full or part-time internship are also eligible for student membership. Student members must not be currently licensed or certified as an addiction professional or practicing as an addiction professional. All student members are required to attest to student status.
Military: $62.50 - Open to individuals actively enrolled in the U.S. Military or U.S. Military Reserve.
Retired: $62.50 - Open to individuals that are no longer in practice.
RECAP OF THE SPRING CONFERENCE
Maybe it was the majestic oak trees and breath-taking sunrises on St Simons Island. It could have been the stellar training and education. Perhaps it was the new connections made with addiction professionals doing the work they love or the reunions with long-time colleagues. Whatever it was, we were soaring high on life after Expert Skills for Critical Times, the 2017 GACA Spring Training Conference & Retreat, April 2-5 at Epworth by the Sea.
Over 145 addiction professionals came from all over Georgia and surrounding states to learn from top professionals and some of Georgia's brightest, emerging clinicians in the field of addiction studies.  The conference opened with Robin Elliot and Laurie Fugitt of Georgia Overdose Prevention sharing their powerful message about opioid fatalities and providing Naloxone administration training.  Jim Seckman, MAC, CACII, CCS, followed with a presentation on the knowledge and skills needed to be an expert in the field of addiction treatment and recovery during these critical times of the opioid crisis.
Participants chose from a wide selection of training courses with topics ranging from ethical boundaries to working with adolescents. Pharmacology for the Addiction Professional presented by Dr. Merrill Norton, PharmD, DPh, ICCDP-D was packed with eager minds learning the most current data on the affects of psychoactive substances on the brain. GACA President Ewell Hardman, MDiv, CACII, MAC, CCS apprised attendees of the current Georgia legislative matters affecting our profession. Dr. Alex Kohl, PhD, LPC provided training in current research and practice in the neuroscience of addiction. The cultural diversity training on transgender populations by Melanie Storrusten, LCSW received high marks for its relevant and timely objectives.
Exceptional presentations were also provided by following addiction professionals: Gail Beard, CACII, CCS; Bill Briggs, CSAC; Dr. Patricia Brown, DBA, CCS, NCACI, CACII; Wayne Carriker, MA, CACDII; Dr. James Craig, MD; Diane Diver, LCSW, CACII;  Lynn Honeycutt; LPC, CACII, MAC; Kumar Krishnan, MS, LAPC, NCC; and Donna Ritter, CACII, BT, CCS.
GACA is grateful for our generous sponsors: The Heritage Foundation, Penfield Addiction Ministries, Promise of Hope, Safety Net Recovery, Unison Behavioral Health, Willingway, Aflac, American Addiction Centers, Blue Ridge Mountain Recovery Center, Northstar Recovery, Recovery Unplugged, Ridgeview Institute, Rivermend Health, Twelve Oaks Recovery Center, Twin Lakes Recovery Center, Southeast Addiction Technology Transfer Center, Acts Consulting, Inc., and Align Wellness Solutions.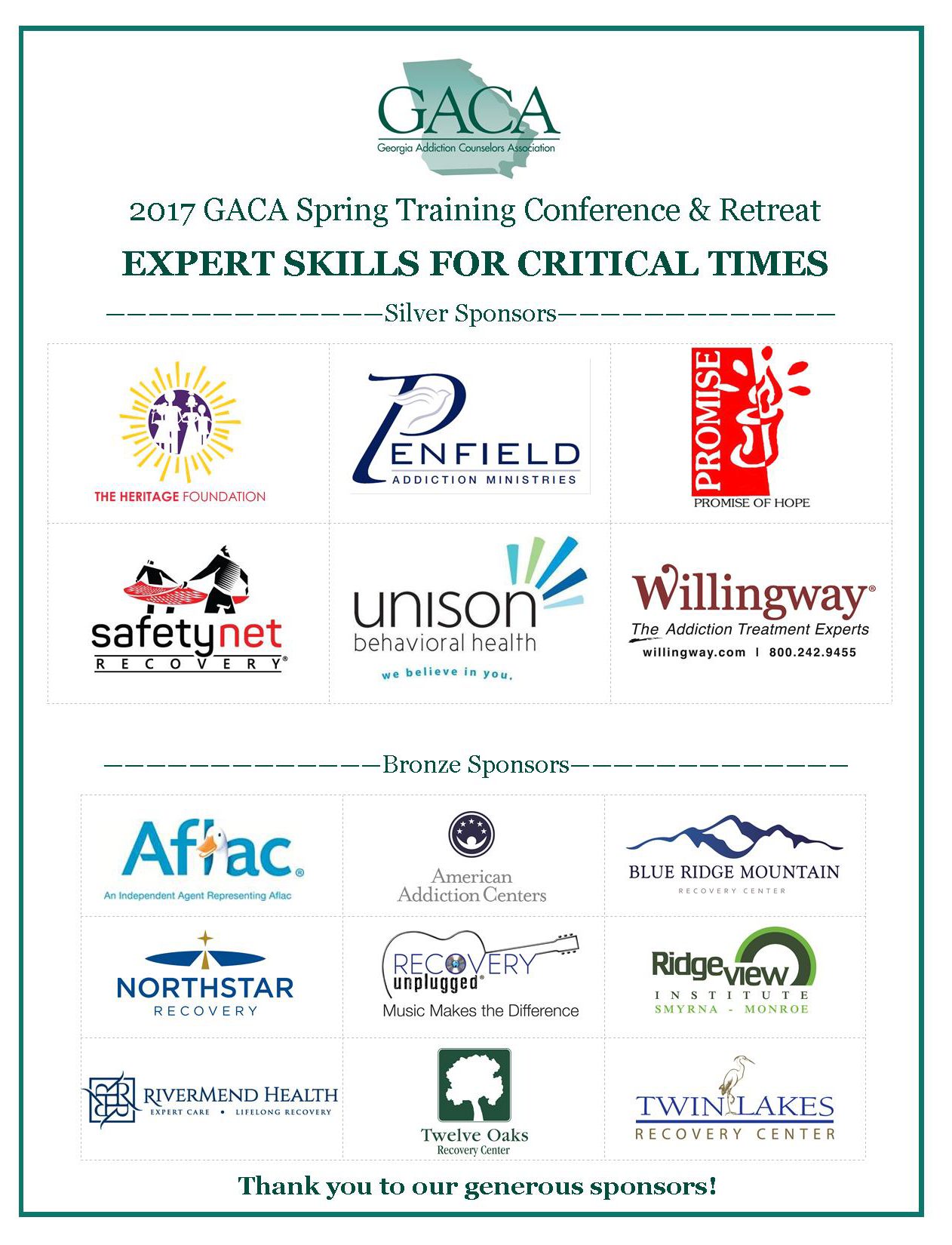 Thank you to all the board members, members, and friends who volunteered their time and energy to making this an incredible conference. Special thanks to: Pat Brown, Janis Ellington, Shana Hall, Ewell Hardman, Lynn Honeycutt, Ed Modzeleski, Brian Rainwater, Donna Ritter, Diane Sherman, Madelynn Speach, Melanie Storrusten, and Todd Stumbo.
We look forward to having you at our next conference.