Friday, July 14, 2017, at Ridgeview
Morning Session - 9:00 am - Noon
Topics: Ice Breakers, Warm Ups, and Check In Tools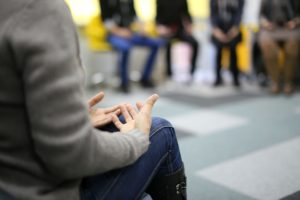 Often getting groups going can be a significant source of frustration both for facilitators as well as participants. Participants are frustrated by some of the classic questions like "How do you feel?" Facilitators are frustrated by classic responses like "good." Come and learn some fun experiential brain based Ice Breakers, Warm Ups, and Check Ins that are sure to energize your group.
Lunch Session: Noon - 1:00 pm
Topics: Mindfulness and Group Facilitation Skills
Afternoon Session - 1:00 pm - 4:00 pm
Topics: Wrap Ups, Debriefs, and Processing Tools
Come and learn some new tools for wrapping up, debriefing, and processing through an experiential lens. These tools are a surefire way to keep the group energized, focus, and curious. These tools are a natural fit for those working within the recovery and wellness field. Whether you are new to facilitation or looking for new ideas this session is sure to energize and excite you.
Full Day Registrants receive 7 Core Hours, Continental Breakfast, and Lunch.
Morning Only registrants receive 3 Core Hours and Breakfast Only.
Register Now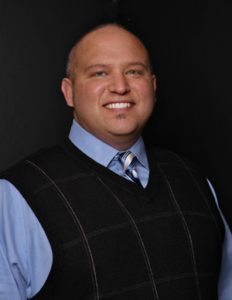 About our Presenter:
Since 2004 Marc Pimsler has worked in a variety of counseling and consulting capacities in the metro Atlanta area. Marc is the Executive Clinical Director for Safety Net Recovery and a sought-after trainer with ACTS Consulting. Marc maintains a private practice where he serves individuals and families in need of substance abuse counseling, specializing in addressing shame and trauma.
Marc is proud to serve as the ethics committee chair for the Georgia Addiction Counselors Association. Marc is also excited about his first book to be released in the spring of 2017 entitled Facilitated Growth - Experiential Activities for Recovery and Wellness. He is certified as a national addictions counselor, certified clinical supervisor, certified yoga and meditation teacher, and is also a certified practitioner with the Institute for Rapid Resolution Therapy.
Marc is passionate about recovery, both his own as well as his clients', believing that sometimes all we need is a helping hand and a fresh perspective. Grounded in the belief system that everyone has the capacity to recover, Marc brings humor and spirituality to everything he is involved in.
RECAP OF THE SPRING CONFERENCE
Maybe it was the majestic oak trees and breath-taking sunrises on St Simons Island. It could have been the stellar training and education. Perhaps it was the new connections made with addiction professionals doing the work they love or the reunions with long-time colleagues. Whatever it was, we were soaring high on life after Expert Skills for Critical Times, the 2017 GACA Spring Training Conference & Retreat, April 2-5 at Epworth by the Sea.
Over 145 addiction professionals came from all over Georgia and surrounding states to learn from top professionals and some of Georgia's brightest, emerging clinicians in the field of addiction studies.  The conference opened with Robin Elliot and Laurie Fugitt of Georgia Overdose Prevention sharing their powerful message about opioid fatalities and providing Naloxone administration training.  Jim Seckman, MAC, CACII, CCS, followed with a presentation on the knowledge and skills needed to be an expert in the field of addiction treatment and recovery during these critical times of the opioid crisis.
Participants chose from a wide selection of training courses with topics ranging from ethical boundaries to working with adolescents. Pharmacology for the Addiction Professional presented by Dr. Merrill Norton, PharmD, DPh, ICCDP-D was packed with eager minds learning the most current data on the affects of psychoactive substances on the brain. GACA President Ewell Hardman, MDiv, CACII, MAC, CCS apprised attendees of the current Georgia legislative matters affecting our profession. Dr. Alex Kohl, PhD, LPC provided training in current research and practice in the neuroscience of addiction. The cultural diversity training on transgender populations by Melanie Storrusten, LCSW received high marks for its relevant and timely objectives.
Exceptional presentations were also provided by following addiction professionals: Gail Beard, CACII, CCS; Bill Briggs, CSAC; Dr. Patricia Brown, DBA, CCS, NCACI, CACII; Wayne Carriker, MA, CACDII; Dr. James Craig, MD; Diane Diver, LCSW, CACII;  Lynn Honeycutt; LPC, CACII, MAC; Kumar Krishnan, MS, LAPC, NCC; and Donna Ritter, CACII, BT, CCS.
GACA is grateful for our generous sponsors: The Heritage Foundation, Penfield Addiction Ministries, Promise of Hope, Safety Net Recovery, Unison Behavioral Health, Willingway, Aflac, American Addiction Centers, Blue Ridge Mountain Recovery Center, Northstar Recovery, Recovery Unplugged, Ridgeview Institute, Rivermend Health, Twelve Oaks Recovery Center, Twin Lakes Recovery Center, Southeast Addiction Technology Transfer Center, Acts Consulting, Inc., and Align Wellness Solutions.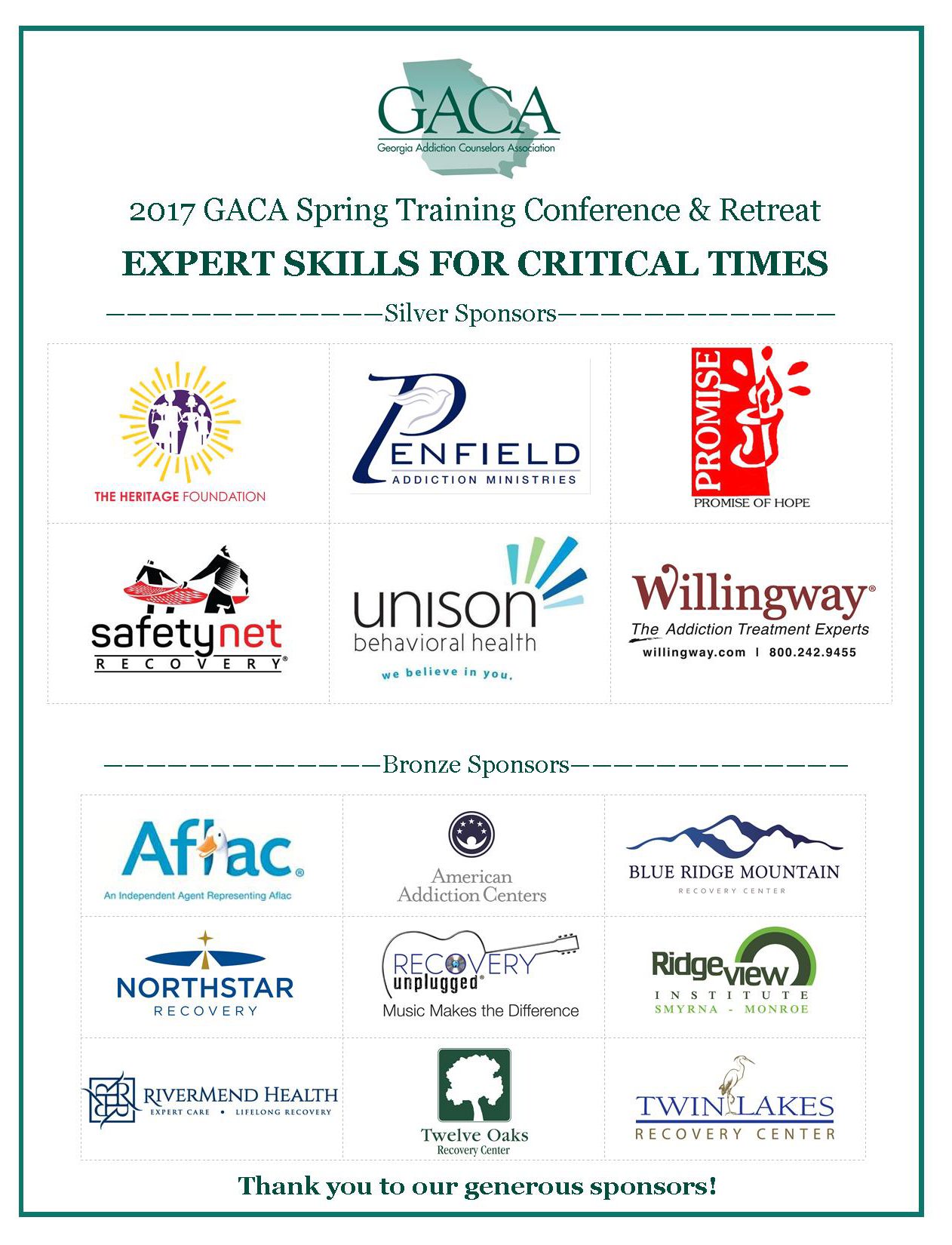 Thank you to all the board members, members, and friends who volunteered their time and energy to making this an incredible conference. Special thanks to: Pat Brown, Janis Ellington, Shana Hall, Ewell Hardman, Lynn Honeycutt, Ed Modzeleski, Brian Rainwater, Donna Ritter, Diane Sherman, Madelynn Speach, Melanie Storrusten, and Todd Stumbo.
We look forward to having you at our next conference.