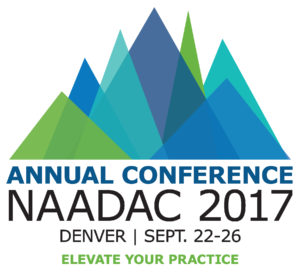 NAADAC, our national organization, will host the 2017 Annual Conference at the Denver Marriott Tech Center in Denver, CO from September 22-26, 2017! Earn up to 34.75 CEs!
The 2017 Annual Conference will bring together over 800 attendees, 60+ sessions, six keynotes, and countless networking opportunities over five days. The three-day Annual Conference will take place on September 23-25. In addition, attendees may register to attend one of four full-day pre-conference sessions on September 22, one of two full-day post-conference sessions on September 26, and/or a two-day U.S. Department of Transportation - Substance Abuse Professional (SAP) Qualification/Re-Qualification training on September 25-26.
Explore forward-thinking topics covering clinical skills, ethics, practice management & technology, co-occurring disorders, pharmacotherapy, process addictions, recovery support, cultural humility, professional development, and addiction education. Don't miss out on this important educational event! Please visit: https://www.naadac.org/annualconference for more information.